Global Content & Analytics
Gain a competitive edge with GCA and increase your analytical capabilities.
Managed service platform for historical content & analytics.
Global Content & Analytics (GCA) is an end-to-end service hosted in the AWS cloud, offering access to raw ticks and analytic functionalities across multiple-asset
classes sourced from multiple vendors.
Provides Customer Support and 24/7 infrastructure and application monitoring
Cleansing and normalization of content from any asset class or vendor
Product Features
Fully-managed, AWS database infrastructure that provides access to cleansed and normalized multi-asset class global market data content sourced from multiple vendors and trade venues.
Allows clients to offload the effort and costs associated with maintaining in-house database infrastructures while offering expanded coverage and enhanced functionality.
Access for existing vendor data subscriptions and the ability to rapidly broaden market coverage across new asset classes or new vendor content.
Access from: R, q, JAVA, .NET, Excel, ODBC, JBDC, C++, Dashboard.
Lower marginal and total operating costs for time series data.
Current Analytic Capabilities
Align quotes and trades at time of trade
Adjusted or Unadjusted Corp Actions with Include/Exclude Qualifier
AssocSymbols – Securities that are historically associated
Correlate - Returns correlation coefficient for columns in separate tables
Daily/Weekly O/H/L/C/B&O on price/volume
Dark/Lit Filter - Returns a table of isolated dark or lit tradesHistorical volumes using variable time window
Minute Bars – aggregated O/H/L/C/V provided in variable timeframes
Moving average of closing price over specified time period
Price Volatility – annualized historical volatility
Sample Time Series – forward filled values for sparsely populated results
SymMap – results in all identifiers for a given security
Time Zone Conversion for DST and global timezone conversions
TWAP/VWAP
Global Content & Analytics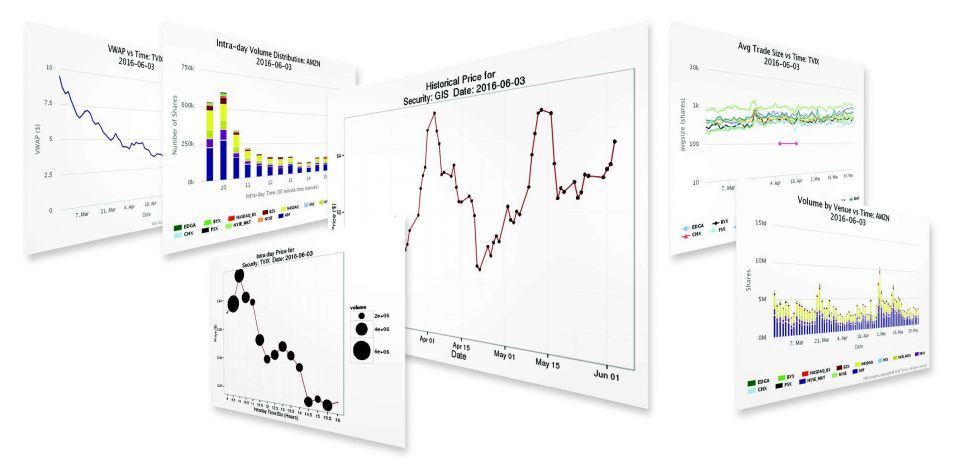 For more information on TMX Analytics' Global Content & Analytics, contact: